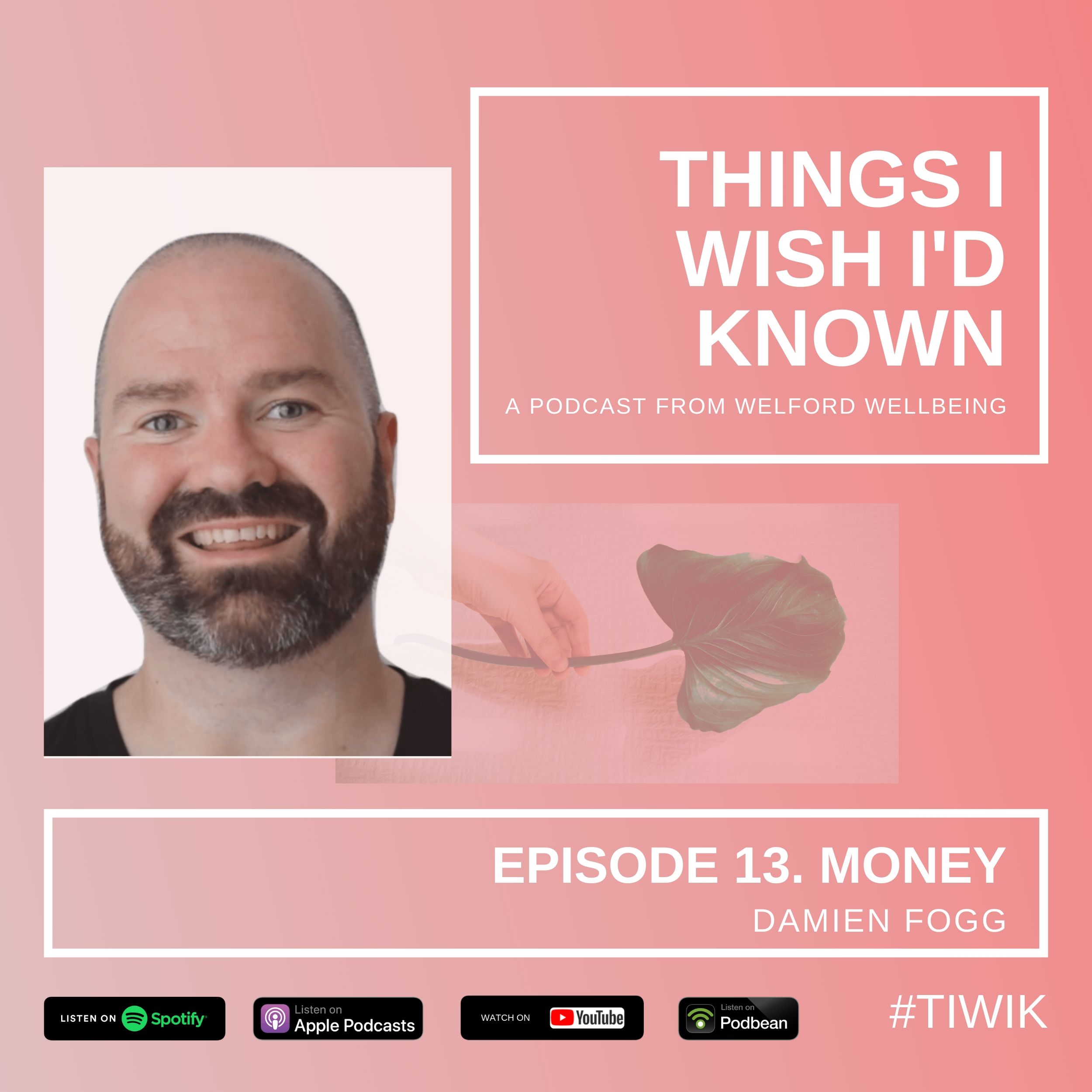 Money is historically a complex subject for most people to discuss. Whether you've got it, had it and lost it or never had it, no one seems to want to talk about the m word… this is why I wanted to cover it on TIWIK. 
Damien Fogg is the author of The Money Shot - The (Slightly Less Dull) Guide to Personal Finance and Investing alongside being an investor, entrepreneur, mortgage adviser, Chartered Surveyor, day trader, property developer, landlord, entrepreneur... and former financial adviser. Oh and in his spare time he runs the EP Investor. Growing up a bit obsessed with money and finances he managed to organise his personal finances in such a way that he retired at 32, so I thought he would be the perfect person to chat to for TIWIK about money.
During this episode we discuss planning for future you, what to do about debt, how starting early is the best plan and why most people are dick heads with their money (Damiens words not mine). We chat trading and why it's not always the best way to make money, where you should start if you're trying to get a handle on your finances and why paying off your debts can be the best return on your money. If you want to learn more about cash this is the episode for you. 
EPISODE INFO AND LINKS:
Website https://www.theepinvestor.com/
Facebook https://www.facebook.com/theEPinvestor/?eid=ARC0sedJQMfFzz3R1uk1o5rdLEtP2Yg-XsVyQSe8g905ZpxtkhtW40oiLmVBicBt_7AzzX_88LX8vyq4
Buy Damiens book - https://www.amazon.co.uk/Money-Shot-Slightly-Personal-Investing-ebook/dp/B07D471F4L 
USEFUL LINKS:
Profit first https://profitfirstbook.com/
Rich Dad Poor Dad https://www.amazon.co.uk/Rich-Dad-Poor-Teach-Middle/dp/1612680011
The Naked Trader https://www.nakedtrader.co.uk/agree.htm
If you need help with your mental health or your finances, please reach out to get help. There are amazing charities where you can find help:
ABOUT THE SHOW
TIWIK is a love letter to my younger self. A conversation about all the things we were told not to talk about. A sharing of knowledge, emotions and laughs. A potential handbook (or the audio equivalent) on how to master your mental health and fall back in love with yourself!
Nothing is off limits. We talk about everything from dating, suicide and mental health through to make up, skin care, magic and spirituality. It's all the things I wish I'd known when I was younger so hopefully me and my guests will save you some heartache, provide some laughs, and inspire you to try something new, helping you to grow from the inside out.
Join the conversation by tagging @welfordwellbeing on:
Instagram - https://www.instagram.com/welfordwellbeing
FB - https://www.facebook.com/welfordwellbeing
using the hashtag #tiwik
For more information on Welford Wellbeing check out www.welfordwellbeing.com
You can listen, watch and follow on:
Youtube - https://www.youtube.com/playlist?list=PLzMgUfqLQwGSN--K0fMOGTLnmvT3oB5qh
Spotify - https://open.spotify.com/show/0q3RxJ6fRED4oBoCpwPukV?si=TR-87oDDS9Os-Rern07bGg
Apple Podcasts https://podcasts.apple.com/gb/podcast/things-i-wish-id-known/id1479344250
or check out https://www.welfordwellbeing.com/tiwikpodcast for more information